Spinach Lasagne Roll-Ups
What's in These Lasagna Roll-Ups?
These spinach lasagna roll-ups require mostly pantry staples. You'll likely need to make a run to the grocery store for the cheeses and frozen spinach, but that's it. Here's everything you'll need to make these spinach lasagna rolls:
Ricotta cheese
Mozzarella cheese
Frozen spinach
Kosher salt and pepper
Marinara sauce
Dried oregano
Dried basil
Garlic powder
Crushed red pepper flakes
Lasagna noodles
Fresh parsley or basil, for garnish
Parmesan cheese
How to Make Lasagna Roll-Ups
Julie shares in her book, "We love lasagna, but we don't like making an entire casserole and eating leftovers for days on end. Lasagna roll-ups are a great alternative because you can easily make the perfect portion for the two of you."
These spinach lasagna rolls are also really fast to pull together and easy enough that Smudge can help with no problem. To make them, simply stir together the cheese filling and cook the lasagna noodles according to package instructions.
Then, whisk together the marinara sauce and spices. To assemble the lasagna roll-ups, lay a lasagna noodle on a flat surface. Spoon a little cheese filling onto each noodle, using your fingers to gently press the mixture in a thin, even layer across the entire noodle.
Gently roll up the noodle from one end of the noodle on the short side.
Place the rolled noodles on a layer of the spruced-up jarred sauce in a shallow baking dish.
Add more sauce on top. You may use more than the recommended 1/3 cup of marinara to top the rolled noodles, and that's perfectly okay. Just go with your taste and your gut.
Then, sprinkle with mozzarella cheese. Place in the oven topped with a tented piece of aluminum foil for 15 minutes, then remove the foil for the final 15 minutes.
And wha-la! Dinner is served.
Roll-on, crouton.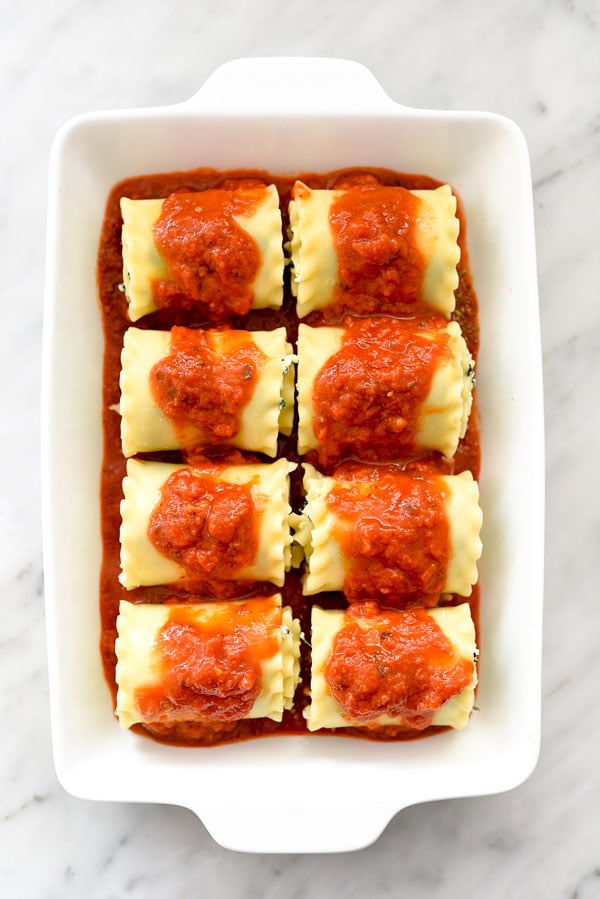 Can I Add Ground Meat to the Sauce?
You likely can. I'd start with 1/2 pound of browned ground pork, turkey, or beef and see if that's enough.
Can I Use Fresh Spinach Instead of Frozen?
Sure, but you'd want to cook it down first in a skillet with a little water in it to help it steam. Note that you'll need a lot of raw spinach to make as much as you get in a frozen package.
Can I Freeze Lasagna Roll-Ups?
I haven't frozen these myself, but I bet they'd freeze nicely. Roll them up, pop them into a freezer- and oven-safe dish, then bake from frozen.
How to Reheat Lasagna Roll-Ups
To avoid drying out the noodles or making them rubbery, skip the microwave and warm these spinach lasagna rolls in the oven instead. Cover them with foil to prevent them from drying out.